What is the HR Hackathon?
The HR Hackathon is the 2-days event where HR Professionals, Developers, Tech Entrepreneurs and HR Tech Vendors work together to improve and build meaningful HR Tech.
The role of HR is changing. In the HR Hackathon, HR practitioners will experience what it is like to work in a fast-paced, agile work environment. Developers have all the expertise in working agile, and they will teach HR and learn a lot from HR and HR Tech Companies.
At the same time, HR Tech is going global: HR Tech Vendors and Startups need to understand current HR pain points in order to develop the best solution.
Finally, the HR Hackathon is the place where people make things happen while they interact and work with each other at eye-level.
Most of all, our HR Hackathon is a unique, professional event, where people share their knowledge and passion for HR and Tech and shape the future of HR Tech in close collaboration.
HR Hackathon is organized by Online-Recruiting.net.
Creator, Organizer & Host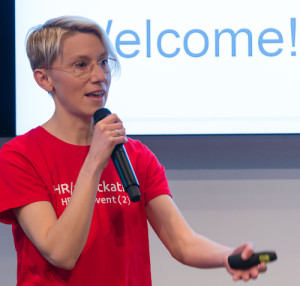 Eva Zils
Eva has started her career in an international job posting agency in Lyon, France, in 2004.
She has been blogging about the international HR Tech industry since 2007. In 2010, having moved to Strasbourg, she founded her consulting and social media marketing company Online-Recruiting.net.
Next to various consulting projects, she has also been a speaker at several HR-and HR Tech-related events.
She has initiated and hosted the first worldwide HR Hackathon in 2015 & 2016.
Her network boasts of more than 18,000 social media contacts, to whom she shares relevant industry updates and her views on the markets.
Her latest activities include the creation of video content which she distributes to her networks.
Join the HR Hackathon Community for the latest updates