What is the HR Hackathon?
The HR Hackathon is the 48 hours event where HR Professionals and Developers work together in teams to brainstorm and create meaningful HR Software.
HR Professionals are confronted with a multitude of software solutions that rarely cater to their working needs. The HR Hackathon inspires HR Professionals and Software Developers to shape the future of HR Tech in close collaboration.
Most of all, our HR Hackathon is a fun event, where people share their knowledge and passion for HR and Tech.
HR Hackathon is organized by Online-Recruiting.net.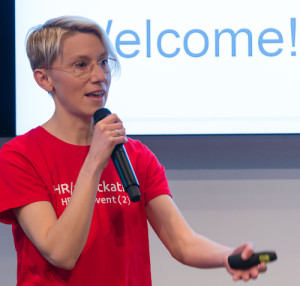 Eva Zils
The HR Hackathon is organized and brought to you by Online-Recruiting.net, the international Consultancy of trilingual Job Portal and HR Communications Expert Eva Zils.
She consults direct employers, HR agencies and job portal owners in their HR marketing strategies and has initiated the first HR Hackathon in 2015.
Eva has been in the HR online media industry since 2004.
Join the HR Hackathon Community for the latest updates